Limnu is all about collaboration. You need other people drawing with you, and that means sharing your boards. Whether you share your boards via Slack, with a link or with a share code we have the right solution for you.
Share Codes
Today we're going to talk about Share Codes. These are great when you want to share your board with people using one of the Limnu mobile apps (get the iOS app here and the Android one here) or when you want to share with a room full of people. Just give them the share code and instead of trying to type in a long web address.
We've made sharing a Limnu board even easier by making our share codes shorter—and dare we say more fun?
So, for all you crazy tarsiers and regular people, let's look at the new share codes.
Finding the Share Code
2. You'll see the new Share Code (click Code, next to Link).
As you can seem the share code we have for this board is crazy-tarsier. Want to see how well it works? You can go ahead and use that code and join our public board!
crazy-tarsier
That short, easy-to-remember phrase is all your colleagues need to join your board!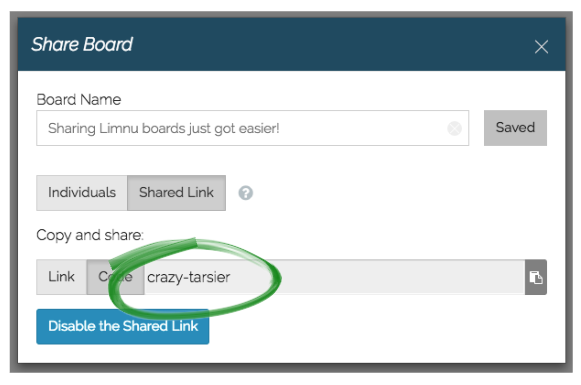 That's it! They are in and all you crazy tarsiers get to work together. Share ideas, explain concepts, brainstorm your next billion dollar idea.
Keeping Ideas Secure
To protect your work from prying eyes, these phrases only work with Shared Link boards. If you've locked down your board by making it Private, anyone who wants to join your board will still need a board invitation from you.
Start Sharing!
Now, get out there and share your boards with the world!
Login to Limnu
Want to know what a tarsier is? Join our board to check it out or watch the (NSFW: language) video True Facts About the Tarsier.
Learn such things as:
Why you will always lose a staring contest with a tarsier.
How it disguises itself in the forest by disguising itself as a small teddybear.
Why the tarsier hasn't invented anything.